Bathing days and spoiling offers for two
Bathing days
Bathing day "One day for me" (Ein Tag für mich)
Day ticket for the bathing and wellness section
Royal pharaohs' massage, back and legs (approx. 20 min.)
Sibyllenbader Wohlfühlmenü (Sibyllenbad wellness set meal), optionally in different restaurants
| | |
| --- | --- |
| Package price per person | 67.00 € |
Relaxation with volcanic power (Entspannung mit der Kraft des Vulkans)
Day ticket for bathing and wellness section
Sibyllenbad natural fango in the waterbed
Pleasant relaxation massage, back
Sibyllenbad "Wohlfühlmenü" (feelgood set menu), electively in different restaurants
| | |
| --- | --- |
| Package price per person | 87.50 € |
Bathing day "Sultan" (Badetag Sultan)
Day ticket for bathing and wellness section
caring Cleopatra pack in the waterbed
Kurland ® Rasul ® Cream Peeling under the bright starry sky
Sibyllenbader Wohlfühlmenü (Sibyllenbad wellness set meal), optionally in different restaurants
| | |
| --- | --- |
| Package price per person | 92.00 € |
Bathing day "A festival for skin and soul" (Badetag "Ein Fest für Haut und Seele"
Day ticket for bathing and wellness section
Deep-cleansing salt-oil-pack in the pleasantly warm waterbed (approx. 20 min.)
Healing Calendula-massage, back and legs (approx. 20 min.)
Sibyllenbader Wohlfühlmenü (Sibyllenbad wellness set meal), optionally in different restaurants
| | |
| --- | --- |
| Package price per person | 96.00 € |
Bathing day "Short break in the orient" (Badetag "Kurzurlaub im Orient")
Day ticket for bathing and wellness section
Kurland ® Rasul ® Cream Peeling under the bright starry sky
Ayurvedic oil massage, back or feet (approx. 30 min. incl. resting period afterwards)
Sibyllenbader Wohlfühlmenü (Sibyllenbad wellness set meal), optionally in different restaurants
| | |
| --- | --- |
| Package price per person | 106.50 € |
NEW: Top tip bathing day "Flexi" 2023 – reduced admissions
On the day of your feel-good treatment (in the medical department or in the wellness area), you will receive the following discounted admissions:
| | |
| --- | --- |
| 2 hours admission to the healing water bathing area | 7.00 € |
| day ticket for the bathing section | 10.00 € |
| day ticket for the bathing and wellness section | 19.00 € |
Flexible, just as you want it – that's how easy it is to organize your "Flexi" bathing day. Please make an appointment for your treatments in advance with our guest service on tel. 0049 9638 9330. The discounted admission will be given to you at the cash desk. Bathing day "Flexi" does not apply for treatments on medical prescription. Day tickets are issued against a deposit. Tickets that have already been paid for will not be refunded.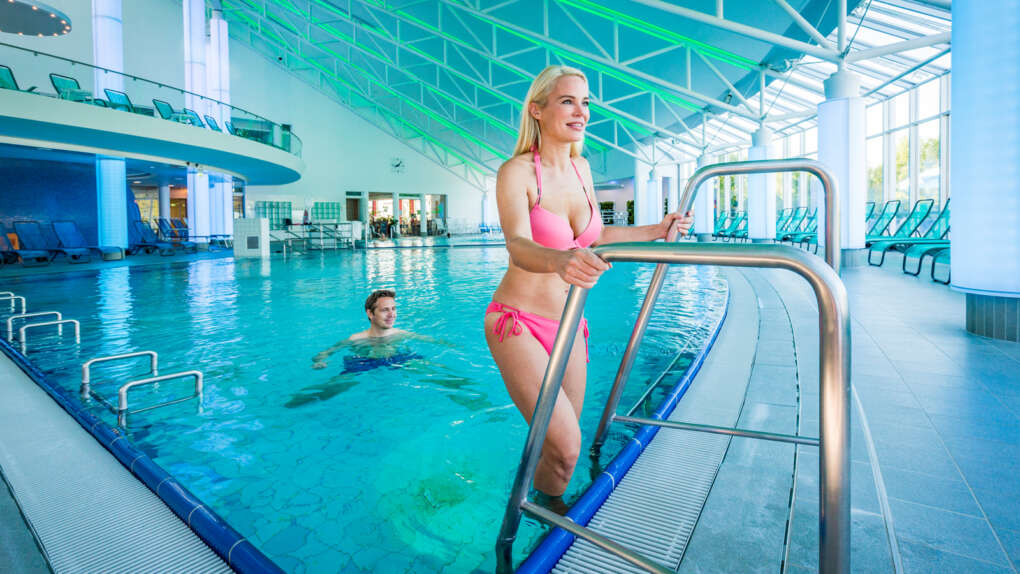 Spoiling offers for two
Time is precious. Spend your time with a nice person. With our spoiling offers for two, you can also enjoy
treatments together. Relax with a caring bath while your companion enjoys a pleasant massage right near.
Our advice: a voucher for our spoiling offer for two as a gift. You do not only give away an unforgettable bath-ing day, but also an unforgettable time à deux.
Relax with Sibylle (Entpspannen mit Sibylle)
(total feel-good time approx. 60 min.)
Day ticket for bathing and wellness section
Royal pharaoh´s massage, back and legs (approx. 20 min.)
Calming softpack in the pleasantly warm waterbed (approx. 20 min.)
| | |
| --- | --- |
| Price for two persons | 125.00 € |
Enjoy as a couple with all your senses (Zu zweit mit allen Sinnen genießen)
(total feel-good time approx. 70 min.)
Day ticket for bathing and wellness section
soothing stone pine oil bath in the Sibyllenbad sound tub
relaxing pine oil massage, back and legs
| | |
| --- | --- |
| Price for two persons | 139.50 € |
Luxury spoiling package (Luxus-Verwöhnpaket)
Day ticket for bathing and wellness section
Purifying salt-oil-pack in the waterbed (approx. 20 min.)
Healing Calendula massage (approx. 20 min.)
| | |
| --- | --- |
| Price for two persons | 154.00 € |