Outdoor bathing area of the Sibyllenbad bathing section
Enjoy the soothing effect of the Sibyllenquelle (Sibyllen spring) in the 36° C warm outdoor pool or train your strength and stamina right near in the counter-current pool (27° C) and subsequently enjoy the marvellous view of the Upper Palatinate landscape from our sunbathing lawn with wooded hills spreading in front of you and gleaming in the sunlight.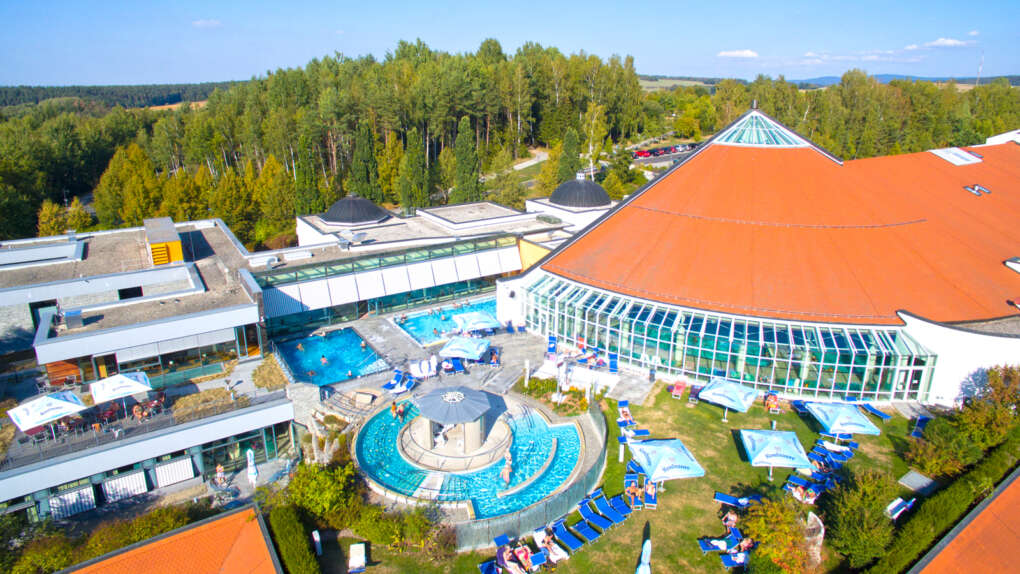 Make use of our spa water in the outdoor area with warm and cold water course as well as integrated plunge pool. As an optimized Kneipp treatment, the cold water course encourages the blood reflux in the veins and improves the lymphatic circulation in case of venous weakness and lymphatic drainage disorders. The warm water course increases the oxygen supply of the muscles and and thus promotes mobility and flexibility. Important when taking contrast baths: always end with the cold water course.
In the neighbouring teahouse with terrace you can enjoy sandwiches, crispy salad plates, coffee and cakes as well as cold drinks. The teahouse is moreover open to guests of the bathing section. An entrance to the wellness section is not required to access the teahouse.
After the end of the bathing time in the bathing section, our wellness guests can use the section's outdoor area for textile-free bathing pleasures.
The evaporation grotto offers an exclusive kind of refreshment and stimulation of the well-being. Pure mineral trace elements run over two high semicircular natural stone walls. Water drops moisten and cover the skin with a refreshing film of this mineral medicinal water – soothing for the respiratory tracts and the circulation, the bathing guest inhales a healthy natural mixture of medicinal water and oxygen from the surrounding air. Relaxation in the evaporation grotto for approx. 5 minutes provides for a gentle cooling down after a stay in the steam bath or the exercise pool. The inhalation of the evaporating medicinal water moreover has a beneficial effect on the respiratory tracts in case of:
Chronic nasal sinusitis
Chronic bronchitis
Allergic rhinitis
Allergic bronchitis and asthma bronchiale (in case of doubt, please consult your doctor in advance)