Carbon dioxide Sibyllenquelle (Sibyllen spring)
Water from the Sibyllenquelle (Sibyllen spring) naturally regulates the circulation, has a balancing effect on blood pressure, improves the blood flow and counteracts physical and mental strain.
Baths at the Sibyllenquelle (Sibyllen spring) are prescribed both in the single tub (100 % carbon dioxide spa water) and with a concentration of 30-70 % in the spa water bathing section.
Natural carbon dioxide (CO2) accumulates on the surface of the skin and penetrates the skin. A slightly reddened skin can be observed which is due to an increased blood flow caused by the penetrating carbon dioxide. Through the increased blood flow in the skin, the carbon dioxide has the following systemic effects:
Improved blood flow properties (viscosity)
Reduced resistance in certain blood vessels in the head, heart and legs, thus improved blood flow in these areas
Reduced heartbeat frequency (pulse rate)
Relief of the cardiovascular system
Improved oxygen supply of the organs
Mental stabilization
Indications for the carbon dioxide Sibyllenquelle (Sibyllen spring)
Borderline hypertension
Condition after stroke
Condition after heart attack, dilation of the coronary vessels (PTCA) with or without stent as well as after bypass surgery (ACVB)
Cardiac arrhythmia with and without pacemaker
Peripheral arterial circulatory disturbances of the legs with skin involvement and reduced walking distance (intermittent claudication)
Neuro-circulatory disturbances, e.g. in case of diabetes (diabetic polyneuropathy)
Carbon dioxide mineral baths can be prescribed – like radon baths – with additional oxygen inhalation. The oxygen is absorbed by the brain, heart muscle and leg muscles and performance is increased in these areas.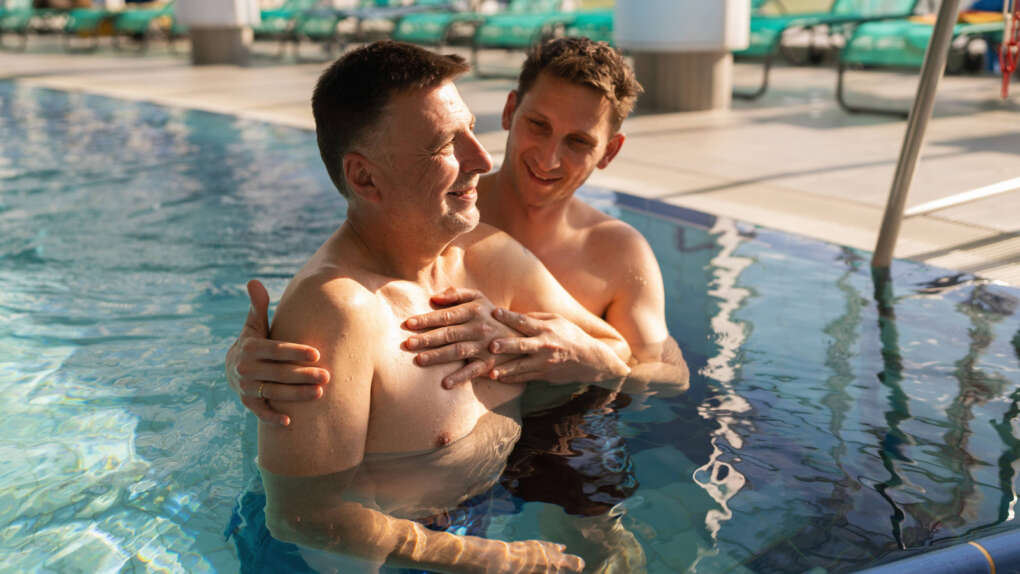 Movement therapy in the spa water bathing section
The body is heated up in the exercise pool and the elasticity of the connective tissue, especially close to joints, is increased, the blood flow is improved and the muscles are relaxed.
Movement therapy in the spa water is particularly important in the Sibyllenbad – as controlled self-treatment, as group sessions or as an individualexercise in the exercise pool in the course of which the therapist works together with the patient in the spa water.
Drinking fountain in the basement
In the basement of the Kurmittelhaus, guests can help themselves free of charge at the drinking fountain with carbon dioxide spa water from the Sibyllenquelle (Sibyllen spring).
The most important and effective active substances of the carbon dioxide Sibyllenquelle (Sibyllen spring) per liter of spa water
Dissolved, gaseous substances (mg/l)
Free carbon dioxide (CO2)
704,0
Cations (mg/l)

Natrium (Na+)
161,5
Calcium (Ca2+)
106,9
Magnesium (Mg2+)
31,7
Iron (Fe2+ , Fe 3+)
2,7
Anions (mg/l)
Fluoride (F)
0,9
Chloride (Cl)
72,8
Sulfate (SO4 2-)
44,4
Hydrogen carbonate (HCO3-)
775,0
Source temperature in °C

12,3